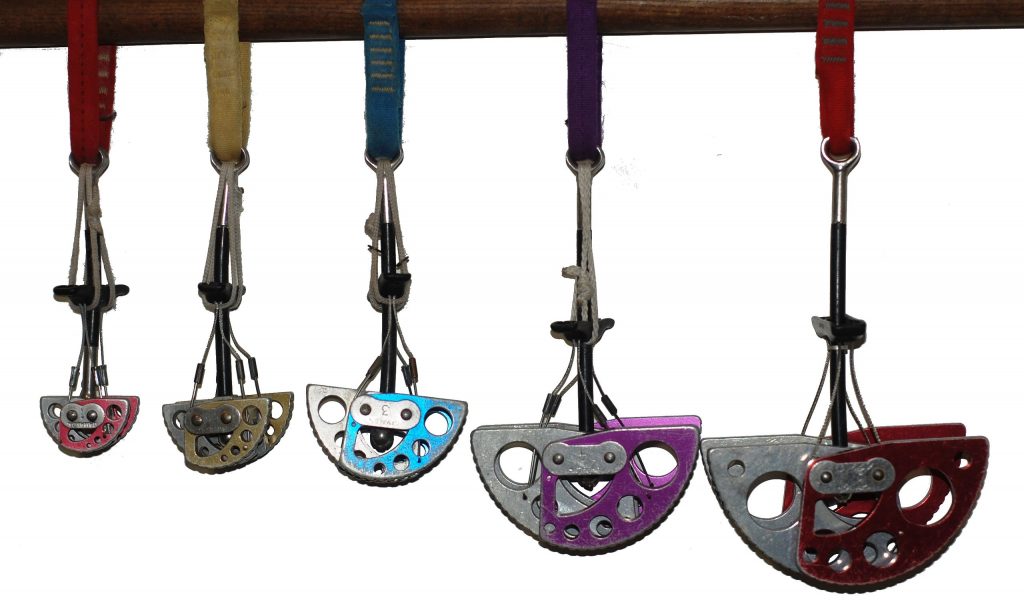 How to Resling Cams
Take a moment and check out all the nylon webbing and cordage on your rack. This includes slings on cams and chocks, quickdraws, runners, daisy chains and cordelette. Manufacturers recommend replacing the slings on cams and chocks as well as replacing runners and quickdraw slings every five years for occasional use, sooner for heavy use or immediately after sustaining a fall.
When it is time to replace your slings, can save bulk and weight by upgrading to the new 12-mm hybrid Dyneema/Nylon web and carrying a Webolette or two instead of a bulky wad of 7 mm. Sewn runners in the 8- to10-mm range, such as those by Black Diamond, Mammut, Petzl and others, can save you even more. Consider the weights below, which compare the old sling to modern upgrades.
6-inch slings of Ultratape Sling on cams. Weight 7 grams, compared to a 5.5-inch nylon sling on a Camalot that weighs 11 grams or a 1-inch nylon sling on a Friend that weighs 14 grams.
6-inch Ultratape Draw or Half Runner. Weighs seven to 12 grams, compared 15 to 20 grams for 11/16″ nylon slings.
24-inch Ultratape Runner weighs 27 grams, compared to 11/16-inch nylon knotted sling that weighs 47 grams or 65 grams for a 1-inch nylon sling, knotted.
48-inch Ultratape Double Runner weighs 55 grams compared to 11/16-inch nylon sling or 130 grams for a 1-inch nylon sling.
10-foot Ultratape Sport and Trad Webolette weighs 65 grams, compared to 326 grams for a 24-foot cordalette of 7mm nylon cord.
Multiply these savings by the number of each that you carry (10 cams, 10 quick draws, six runners, one to two double runners, one to two cordelettes) and you can save 650 grams, or about a pound and a hal. For each pound saved you will climb two pounds "stronger," plus the streamlined profile of your rack will allow you to climb more efficiently
How to Choose the Right Ice Tool this Winter

How to Fine Tune Rock Shoes

Each rock-shoe manufacturer's choice of rubber is akin to a Formula One's team of engineers matching suspension and tire choice to a specific track. The nuances of rubber performance are vast, but all rubber is … Continue reading "How to Fine Tune Rock Shoes"